London to Cape Town - Route Outline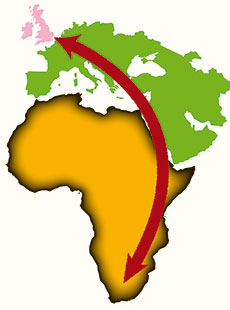 The 2012 London to Cape Town Route Map
Click the link to open a map of the route >> Route Map
The route drives across Europe before taking a ferry from Greece to to North Africa. After Egypt the route moves on to Saudi Arabia and on to Jeddah. From Jeddah we cross the Red Sea to Sudan, and a day's run then brings us to Ethiopia, and a stunning mountain road takes us from the frontier deep into Ethiopia and the road to Kenya. Here we cross a demanding desert track and on to Nairobi for a day off …we then head south to Tanzania, driving from Arusha to Dodoma, and continue heading south for Zambia, where the local Motor Federation will be organising some Time Trials in the Plantations around Lusaka.
After taking in the splendours of Victoria Falls at Livingstone, we cross the Caprivi Strip, the narrow passage of land that takes us into Namibia, lots of gravel roads here… finally into South Africa and on to Clanwilliam, gateway to the Cederberg Mountains, and our drive into Cape Town …the celebrations will be an all-night section run from the bar of the Table Bay Hotel!
This is the first rally to stage a timed-drive with the clock ticking every day from Europe to Cape Town without recourse to airlifts or special shipping – the only boats involved are scheduled ferry-services, in a route that aims to keep the wheels turning all the way, clocking up results daily with the successful survivors going home with trophies at the end of a very special rally-adventure.
The 2012 London to Cape Town Rally
Preliminary Route Outline - Updated October 2011
Date
Route
Country
Kms
Jan 1
Scrutineering, Brooklands. London Start: 7.00pm
UK
130
Jan 2
London to Beaune via Dover-Calais ferry, 3.40am
France
610
Jan 3
Beaune to Florence
France, Italy
840
Jan 4
Florence to Ancona (Port) - ferry, 4pm
Italy
300
Jan 5
Igoumenitsa (Port) to Kamena Vourla
Greece
470
Jan 6
Kamena Vourla to Piraeus (Port) - ferry, 12am
Greece
490
Jan 7
On Ferry - Rest Day
Mediterranean
Jan 8
Alexandria (Port) to Ain Sokhna
Egypt
350
Jan 9
Ain Sokhna to Safaga (Port) - ferry, 4am
Egypt
460
Jan 10
Duba (Port) to Yanbu
Saudi Arabia
520
Jan 11
Yanbu to Jeddah (Port) - ferry, 9pm
Saudi Arabia
350
Jan 12
Suakin (Port) to Gedaref
Sudan
720
Jan 13
Gedaref to Bahir Dar
Sudan, Ethiopia
510
Jan 14
Bahir Dar to Awasa
Ethiopia
760
Jan 15
Awasa to Moyale
Ethiopia, Kenya
510
Jan 16
Moyale to Marsabit
Kenya
250
Jan 17
Marsabit to Nairobi
Kenya
540
Jan 18
Nairobi - Rest Day
Kenya
Jan 19
Nairobi to Arusha
Kenya, Tanzania
410
Jan 20
Arusha to Dodoma
Tanzania
440
Jan 21
Dodoma to Mbeya
Tanzania
610
Jan 22
Mbeya to Mpika
Tanzania, Zambia
500
Jan 23
Mpika to Lusaka
Zambia
700
Jan 24
Lusaka to Livingstone
Zambia
500
Jan 25
Livingstone to Tsumeb
Zambia, Namibia
1050
Jan 26
Tsumeb to Windhoek
Namibia
650
Jan 27
Windhoek to Ai-Ais
Namibia
840
Jan 28
Ai-Ais to Clanwilliam
Namibia, South Africa
650
Jan 29
Clanwilliam to Cape Town
South Africa
330
Total distance (kms) :
(14,400)