Background and Build-up
The Concept
The London to Cape Town World Cup Rally endeavours to capture the spirit of the long distance World Cup Rallies of the 1970s. The event is not designed as a tour but as a "press on" driver's challenge with Time Trials and a time-schedule to be maintained every day. The ambition is to revive the kind of rallying last seen on the 1977 London to Sydney marathon.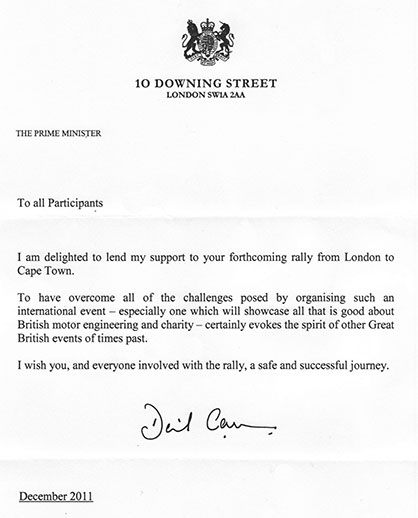 A Letter from Number 10
As the January 1st start date approached and several years of planning came to an end the Prime Minister found time to send a letter with his best wishes to the crews and all involved with the London to Cape Town World Cup Rally.
Fund Raising
The London to Cape Town World Cup Rally is raising funds to improve the lives of many communities along the route. Water Aid reaches the world's poorest with safe water and sanitation, and African Revival provides teachers and equipment in village schools >> Read more ...
About the Organisers
Philip Young is the driving force behind the Endurance Rally Association. Since their first major international event, The 1988 Pirelli Classic Marathon, the E.R.A. has promoted and organised more than 60 international rallies through more than 50 countries throughout the world. The list includes the longest rally in history, the Around the World in 80 Days, three Peking to Paris rallies and 12 events in Africa >> Read more ...
A call or email to the Rally Office will put you in touch with the most experienced organising team in the business. If you have never taken part in such an adventure and don't have a suitable car, or if you are a highly experienced competitor looking for your next challenge, the team at the Endurance Rally Association office in Didcot will guide you each step towards the start line.
Route Survey
In January 2011 Philip Young and Jim Allen completed a month long route survey down the full length of Africa travelling through Sudan, Ethiopia and Kenya and on to Cape Town. During the trip they sent back regular reports and photographs >> Read more...
Africa Motoring Pioneers
Our Africa Pioneers page recalls a proud history of pioneers who opened up Africa to the motor-car followed by many record breaking overland drives that continue to the present. The London to Cape Town overland record now belongs to the Max Adventure team for their October 2010 drive. Among the earlier record breakers we recently met John Hemsley, who in 1983 drove a Range Rover, unaided and without back-up support, from Cape Town to London in 14 days. John shared the driving with his wife in the days when navigation relied solely on maps and a compass >> Read more ...
---
Some other Endurance Rally Association events